When we started SMI in 2009 the goal was to provide structure and clarity to an industry that was historically opaque. And we've been lucky to forge relationships with others in the industry, not just in Australia and New Zealand, but across the world, that want to help us provide that transparency.
But as the industry evolves, we've realized that there is still more that can be done to shed light on what's happening in the advertising industry. And clearly the next area of the advertising market requiring improvement was that of Product Category advertising expenditure.
It was an area of constant frustration for both advertisers and media owners as it was actually impossible to know how much any Product Category was spending on any type of media. Instead, people responsible for marketing budgets worth many millions of dollars were relying on ad spend estimates. Yes, that's right. In this highly data-driven and increasingly sophisticated media industry, media plans are marketing strategies are being shaped with not much more than guesswork.
And this issue became even more problematic with the growth in the Digital media, as the old-fashioned method of estimating ad spend is even more unreliable in a world where advertising payments are often determined by the number of clicks, landings or views.
So SMI has again sought to provide transparency into this key niche of the advertising market. Working with our media Agency partners we have slowly been able to release ad spend data for more Product Categories. Initially we released it by Major Media (total TV, Total Digital etc) but then realised we could do the same for key media sectors (Broadcast TV, Subscription TV, Social Media, Search etc).
And an even more valuable step was to make the Categories themselves more granular, and now that's also happened!
In Australia, users can now see ad spend across 126 Product Categories each month shown by:
Seven major media (TV, Digital, Radio, Outdoor, Newspapers, Magazines, Cinema)
Competitive Media types (traditional media plus the associated digital revenues ie Broadcast TV PLUS streaming sites)
Four Digital Ad Formats (Video, Display, Mobile, Search) and Digital and Static Outdoor Ad Formats
Direct and Third Party Digital Buy Types
Agency Market (state bought out of i.e. Sydney Agency ad spend, Melbourne Agency ad spend)
And the same work is also happening in NZ, where we've just published ad spend data for 107 Product Categories for the Digital media. Similarly, users who subscribe to this premium service can breakout the monthly ad spend of all NZ Product Categories across all Digital data points (Search, Social Media, Programmatic etc) to determine category movement and understand data at a level that was never possible before.
We believe that seeing real ad spend data by category is not just a nice to have, but a game changer to the current market of unwieldy estimates. Estimates, even if at the brand level, will ultimately cause more problems than good. As an advertiser, you can't compare your own spend to competitive estimates. It's simply not apples to apples, and can cause false security, or mayhem, with your own campaigns.
SMI's Product Category data, which provides transparency across Digital sectors that have previously been immeasurable like Search, Social and Programmatic will create the clarity the marketplace is requiring.
Check out a glimpse of the Product Categories for which we now report ad spend in the Australian and New Zealand markets below.
SAMPLE OF NEW AUSTRALIA PRODUCT CATEGORIES: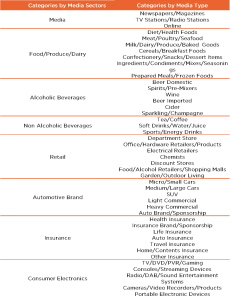 SAMPLE OF NEW, NEW ZEALAND PRODUCT CATEGORIES: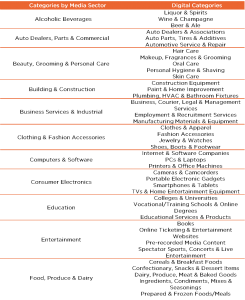 Not to be left out, in our US market, you can also dig into 108 linear National TV ad categories in our aptly named, AccuTV product.
We know how powerful real ad spend is to understanding market trends. With this new granularity, you no longer have to rely on estimates to understand share-of-voice. Our real spend, provides real clarity on your competitive set by category – it's time to get rid of the estimates.
Get in touch to learn more about our ad categories in any market.