Welcome to Inside Ad Spend – SMI's monthly look at what's happening around the ad market, giving you key stats you need to know. This month, we look back at Q2 and how the overall ad industry performed.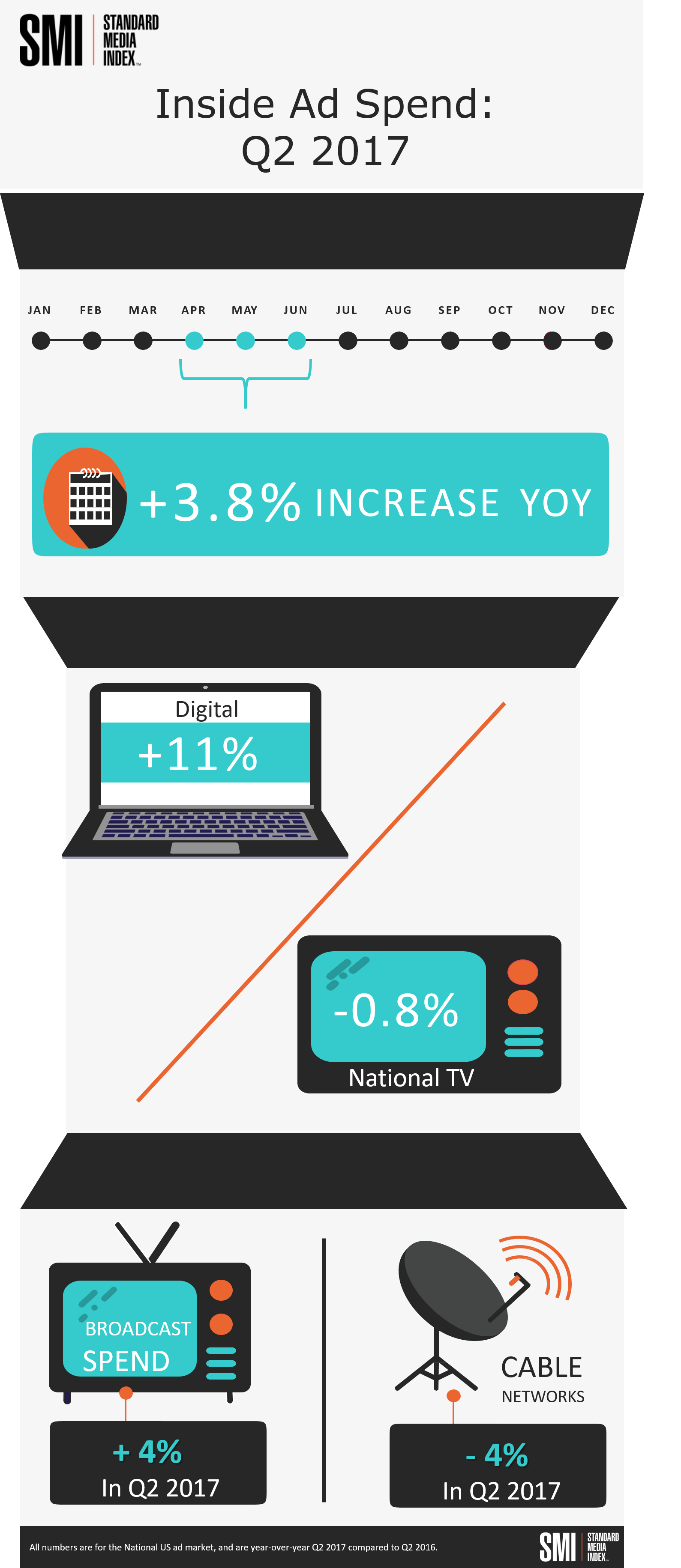 ACROSS THE AD INDUSTRY
The total advertising market closed the quarter up +3.8% compared to Q2 2016, due to a strong showing by Digital which ended the quarter up +11% following modest single digit growth in Q1 2017. The National TV market ended the quarter flat compared to Q2 2016, with -0.8% decrease in spend. Radio, Magazines, Print and Out-of-Home all saw year-over-year declines for the quarter with -4%, -16%, -20% and -1%, respectively.
DIGITAL AD SPEND PICKS UP IN Q2
The Digital sector grew +11% in Q2 2017, following its first only single-digit growth in Q1 2017. That brings the sector's YTD (Jan – June 2017) growth rate to +9%. Social saw strong growth at +55%, Search saw a +12% increase, and Internet Radio increased by +7%.
NATIONAL TV AD SPEND SEE A FLAT Q2
In Q2 2017, the National Television market was nominally flat, with a -0.8% year-over-year dip. Cable networks saw a -4% decrease while Broadcast networks registered a +4% increase compared to Q2 2016. The 4% swing between Broadcast and Cable can be largely attributed to the airing of the final three games of the NCAA tournament in April. This year, these games were carried on CBS at the expense of TBS and Cable.
For more on what happened across the ad industry in Q2 check out our Q2 Report or get in touch for a demo and sample data points.