Standard Media Index, the only advertising intelligence firm to source detailed and complete data directly from the major media holding companies, today unveiled national advertising revenue figures for January 2018. The total US ad market grew by 10.8% in January 2018 compared to January 2017, driven by significant gains in National Television and Digital platforms.
In January 2018, year-over-year (YoY) advertising revenue in National TV grew +7.1%, with +11.1% growth in Cable and +2.7% in Broadcast. Digital grew +16.8%, radio declined -6.1%, out-of-home (OOH) declined -2.1%, and print dropped -3%.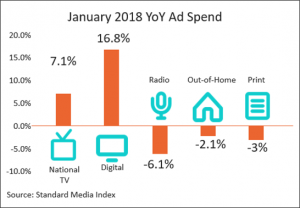 "January has been a stellar month for National TV. Scatter volume is up 50% on 2017 as a host of advertisers have stormed back into the market. Some of this growth has been driven by the move of several big college football games and the Grammy's into January, but even so underlying growth is still an impressive 5.3%. Based on these results, and our view into forward bookings, we predict National TV to grow 1.6% in Q1, excluding the Winter Games." Says James Fennessy, SMI's CEO.
Awards Shows
Entertainment programming saw a resurgence in January 2018 with +12% growth compared to January of last year. Part of the reason for this was the 60th Annual Grammy Awards took place on Jan. 28; however, the show took place in February last year. The Grammys, excluding red carpet coverage, earned $61 Million in ad revenue for CBS, a +3.8% increase from last year. The paid unit cost for an equivalized 30-second commercial spot rose +11.8%, despite losing 24% of total viewers from last year. That said, CBS reported a 40% increase in unique viewers of the show's live stream from last year.
The 75th Annual Golden Globes, which aired on NBC on Jan. 7, brought in more than $32 Million in ad revenue, a +7.1% increase from last year. Despite viewership dropping 5% from last year, the average cost of an equivalized 30-second commercial spot also increased by 5%. This year's Golden Globes focused on the #MeToo movement and featured the introduction of #TimesUp. With much of the discussion taking place during the pre-show interviews, the 2018 Golden Globes Arrivals Special increased ad revenue by 8%.
The 24th Annual Screen Actors Guild (SAG) Awards, which aired on TBS and TNT on Jan. 21, saw ad revenue increase nearly 25% from last year. 2018 was the first time the awards show had a host, Kristen Bell, who jokingly referred to herself as the "First Lady" of this awards show.
"Again, we see that even though audiences are falling, pricing for these major events continues to increase," said Fennessy. "We expect to see this trend continue, as our research shows an impressive return for advertisers that support live programming. Premium video continues to be the power house of ROAS and, given the fragmentation of audiences and safety issues on other mediums, this won't change anytime soon."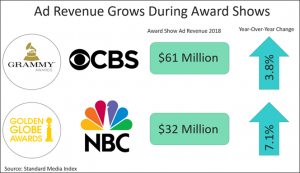 NFL Post Season
Although the regular season NFL games saw a decline in 2017, ad revenue during the post-season increased by +5.3% year-over-year. These figures include the wild card, divisional round and conference championships – the games that took place in January.
News
Cable News continued to show strong growth in January at 25% year-over-year. MSNBC, which also reported record viewership this month, earned a whopping 62% more ad revenue than January of last year. CNN increased +32% and FOX News increased +17%.
Looking at weekday primetime programming, CNN grew nearly 50% in January year-over-year. FOX News is the most expensive Cable News network for weekday primetime, charging an average $13,600 for an equivalized 30-second spot.
Digital
In January 2018, Digital increased +16.8% year-over-year. Digital platforms have grown ad revenue on a year-over-year basis in every month since Standard Media Index began tracking the data. Digital's rate of growth slowed in the second half of 2017 and has been steady around 12% since October.
Social Media networks saw the largest growth in January at 42%. Facebook saw the strongest growth at 55%, and Twitter increased its ad revenue 30%. After some early losses last year, Twitter has been growing on a year-over-year basis for the last several months. Video Sites grew 10% in January, with large gains from premium video providers. Hulu increased 20% and Vevo nearly doubled its revenue.
Advertisers by Category
Looking at advertiser categories across National TV, the Auto industry was the largest spender in January, although that amount declined by 3% compared to last year. Meanwhile, the Insurance industry was the second biggest advertiser, increasing spend by 22%. Prescription Pharmaceuticals (+4%), Quick Service Restaurants (+10%), Food and Food, Produce & Dairy (-10%) had the largest spend in 2017.
Looking at advertiser categories across all platforms, the Telecommunications industry was the largest spender in January, increasing 8.3% year-over-year. Autos, which were the second largest category, remained flat. Prescription Pharmaceuticals (+16.9%), Insurance (+25.9%), and QSR (+6.3%) make up the top five. IT & Software grew the most YoY, more than doubling its spend.