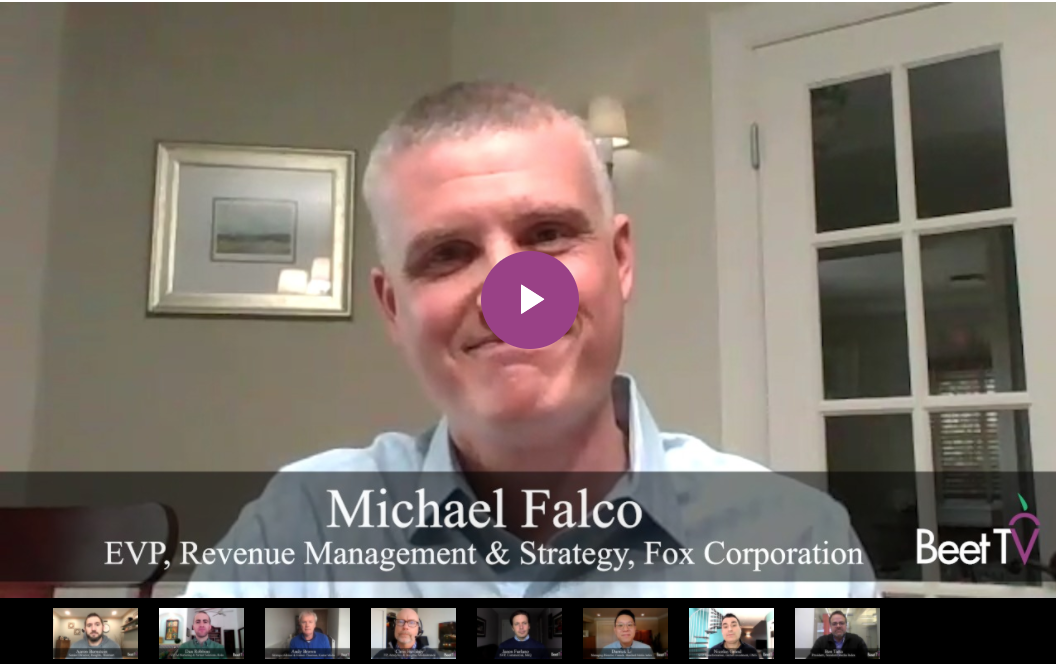 Information about media spending provides a roadmap for advertising salespeople looking for an advantage in the marketplace. For Michael Falco, executive vice president of revenue management and strategy at Fox Corp., data about categories of industries have been most important amid the disruptions of the pandemic.
"It was such a fluid marketplace, and a lot of our clients were trying to figure out their business on the fly," he said in this interview with Beet.TV.
In addition to helping advertisers, data insights help to understand where Fox's media channels stand among rivals "so we understand that we're getting the share in the market that we should be getting," he said.
The data also provide "another opportunity for our salespeople to sit in front of a client and say, 'Look, we understand. We know where you're spending, and we know potentially why you're spending, but give us the opportunity — because we feel that there's a share shift here that's going to benefit you and your business," he said.
The automotive industry has seen different cross currents, such as a shortage of semiconductors that have slowed factory production and rising demand for electric vehicles. Those trends affect their media-buying decisions.
Analyzing NFL Broadcasts
To gain more insights into its competitive stance, Fox recently performed a recap with Standard Media Index (SMI), which provides data on ad spending sourced from agency holding companies, to see how its National Football League broadcasts performed.
Because Fox has 42% of the gross rating points (GRPs) in NFL airings, Falco wanted to determine whether it was attaining a similar share in media spending for those games.
"Having that conversation with SMI, getting comparative data…and a look at the entire NFL marketplace and understanding what our competition is doing — and benchmarking ourselves against that — really helps us," Falco said.
The data also help with inventory management amid the growing fragmentation of the media marketplace as viewers spend more time with streaming platforms, such as ad-based video-on-demand (AVOD) and subscription video-on-demand (SVOD) services.
Fox last year acquired streaming platform Tubi to diversity its distribution among households that are connecting their TVs to the internet. The platform is another channel for its news, sports and entertainment programming.
"We're re-aggregating our audience," Falco said. "We can touch our audience no matter the platform that they're on."