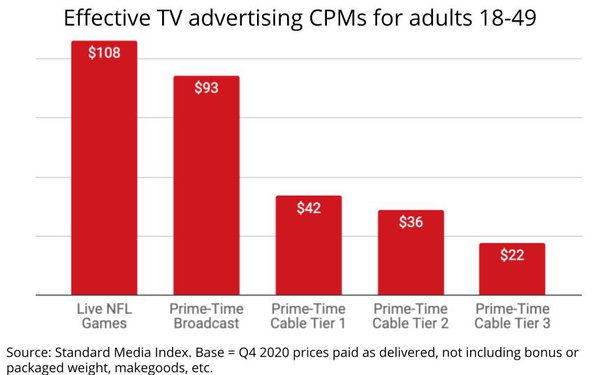 In preparation for more sophisticated forms of linear TV advertising sales, syndicated ad-spending research firm Standard Media Index is adding so-called "effective CPMs," or eCPMs, to its database.
The eCPMs are an estimate of the explicit cost of delivering the advertiser's target audience. They are calculated by dividing the cost of the ad by the actual audience delivered, excluding so-called "bonus weight," makegoods, etc.
To illustrate the value of analyzing eCPM data, SMI provided MediaPost with the samples you see here, including the one at top showing the average cost-per-thousand of reaching adult 18- to 49-year-old viewers in various broadcast and cable dayparts and tiers, as well as the one below showing comparable costs for women 25-54 in network prime time vs. live televised NFL games.
Those demos were provided for illustrative purposes, and may or may not be the type of audience an advertiser might actually be targeting or have their ad buys guaranteed on — but they make the point, showing how much more cost-effective targeting women in prime-time vs. NFL coverage is, as an example.