Part 2 of a 4-part Series on the TV Upfronts Season
By John Spiropoulos, SMI Insights
The Supply Crunch in the video market has differential and, from the casual observer's perspective, contradictory effects. This post, the second of four in the Upfront series, will discuss cross-screen supply-side impacts to the Upfront marketplace.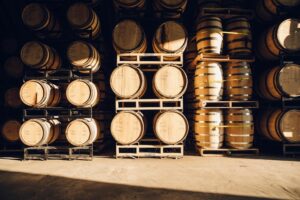 The digital transition in the video marketplace is here. This is a short-term period of consumer migration, which will leave the industry in a years-long position of catch-up – where advertising supply will have to be found to meet advertiser demand from newly redistributed consumer usage.
According to Nielsen, streaming from all (measured) sources accounted for 30% of viewing across all screens in March 2022 (latest available period via Nielsen's The Gauge). This is up from 26% reported a year ago (April 2021, the earliest report period for The Gauge).
Advertising on streaming platforms (both digital-first and legacy-linear publishers) accounted for 23% of video publisher ad revenue in March 2022 (excluding video ads to non-video digital publishers), according to the SMI Pool.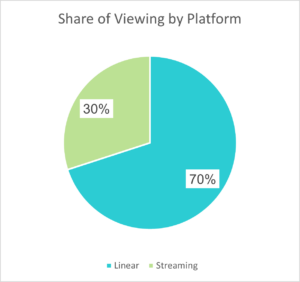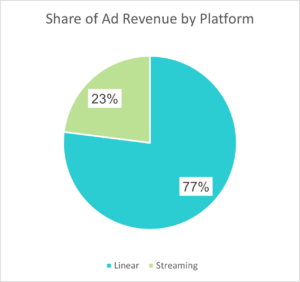 The difference between viewing and ad revenue is mainly the high ad load available on television. TV is a passive consumer experience and can accommodate a greater volume of ads compared to most digital media. Additionally, several large digital streaming platforms are currently ad-free (or have an ad-free subscription tier), e.g., Netflix.
And therein is the supply crunch: more viewers are Cord-Nevers or are Cord-Cutters, consumers are moving to digital steaming platforms, publishers are making more of their library content available only through their own streaming platforms, and streaming has fewer-than-TV ads or no ads at all.
Important are upcoming changes to the streaming landscape.
Netflix is the largest streaming service which owns roughly 20% of the streaming viewing market (according to Nielsen's The Gauge). It's short-term status as market leader is likely safe. Long-term, however, newer legacy-linear entrants will eat into that share.
Netflix reported poor Q1/2022 subscriber growth (its stock is trading at roughly $200/share – on May 3, 2022 – with peak trading in Q4/21 hitting $700/share). Much of this is due pandemic-fueled faster-than-expected subscriber growth.
It's also more endemic than that. As noted above, those same (newer) legacy-linear publishers are holding their own content library for their streaming platforms. Netflix can longer count on content acquisition as a business fundamental. Accordingly, Netflix will look to slowly build out an ad supported tier to seek revenue growth to maintain their own production pipeline.  However, even if they max out their ad load to streaming norms, which will take time, it will only be an incremental 2% to total video ad supply.
There is no fundamental shift away from the supply crunch. This will leave ad-supported platforms and publishers, including linear and related cross-screen deals, in a position to "win" on price for the foreseeable future.
But, back to the original point: it's not all about price. As prices increase, there will be reduced overall ad spend to linear video, as we demonstrated for broadcast primetime in the 1st post of this series.
Other posts in this series:
Sources used for this article:
Ad Spend: SMI Core, Q1/2022, video platforms only, excludes video ads on non-video platforms
Video Viewing Measurement 2021: The Gauge, Nielsen
Video Viewing Measure measurement 2022: Nieslen
Sample of news coverage for Netflix Q1 report coverage, The Street